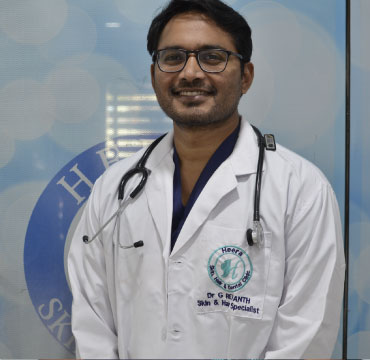 Speciality
Dermatologist
Qualifications
MBBS, DDVL, DNB. Hair Transplant Surgeon
Areas of Expertise

Dermatology,
Trichology
Cosmetology

Languages
English, Hindi, Telugu
Gender
Male
Dr.G.Revanth
MBBS, DDVL, DNB, Hair Transplant Surgeon
(Dermatologist, Trichologist, and Cosmetologist)
Dr.G.Revanth, MBBS, DDVL, DNB, Hair Transplant Surgeon, is an experienced, fellowship-trained Specializing in Dermatology, Trichology and Cosmetology.
Dr. Revanth is the best skin and hair specialist Doctor in Nizamabad, having performed over 12,000 procedures (9000+ skin related and 3000+ hair related)
Dr. Revanth has performed thousands of skin and hair treatment procedures such as Acne treatments, Vitiligo treatments, and Hair Transplantations. As a highly specialist surgeon, Dr. Revanth also performs Stem Cell therapy, Mesotherapy, PRP (Platelet Rich Plasma) therapy and has extensive experience with issues related to Pimples, Scars, Psoriasis, eczema, Skin rejuvenation, Thin hair, patchy hair, and bald head, etc.
He has successfully completed his specialist diploma at DDVL- JJM Medical College and did his DNB from the famous NANAVATI HOSPITAL Mumbai. Fellowship in Hair Transplant at Asian Institute of Hair Transplant Pune, Fellowship in Dermatosurgery at Asian Institute of Hair Transplant Pune where he refined his procedural and surgical skills.
Dr.G.Revanth is the best skin and hair care specialist Doctor in Nizamabad, to use world-class technology and sophisticated equipment for treatments on his patients. Dr. Revanth has successfully completed several certifications, Internships, and fellowships to master his treatment and surgical skills.
Dr. Revanth credits his impeccable results in skin and hair to his expertise, experience, special care for his patients, and the use of the most advanced FDA-approved technology and equipment..
What People Says
Best dermatologist I have come accross, staff is very friendly the ambience is good and apart from all this treatment is best and trustworthy.
Have been for skin issues and had great changes compared to before. Staff people are so friendly in engaging. I recommendthis clinic for good indeed.
I am NRE person, I had great experience with heera skin clinic. I was consulted for skin they did laser treatment. Very short-term treatment and less price. Especially for NRE patients most useful.Thanks once again
Most stylish and modern cosmetic clinic first time in Nizamabad. All laser treatments are available... Good results.
we can say Heera clinic is one of the top skin clinic in Nizamabad, when I visited for treatment I got discount for treatment. Over all resulta are good. I will recommend for family and friends for sure.
❮
❯